Good Friends
Live your best life at home with the help of Good Friends
If you love living independently, but need some assistance around the place to stay healthy and safe, Good Friends is ready to lend a hand with all kinds of skilled helpers.
Using a combination of human expertise and smartphone app convenience, Good Friends makes everyday life easier with a choice of services. The people who call in to help you will be the same every time and we'll match them to your personality and preferences, so you'll feel comfortable right from the start.
Good Friends is currently only operating in Christchurch. Other areas of New Zealand will follow.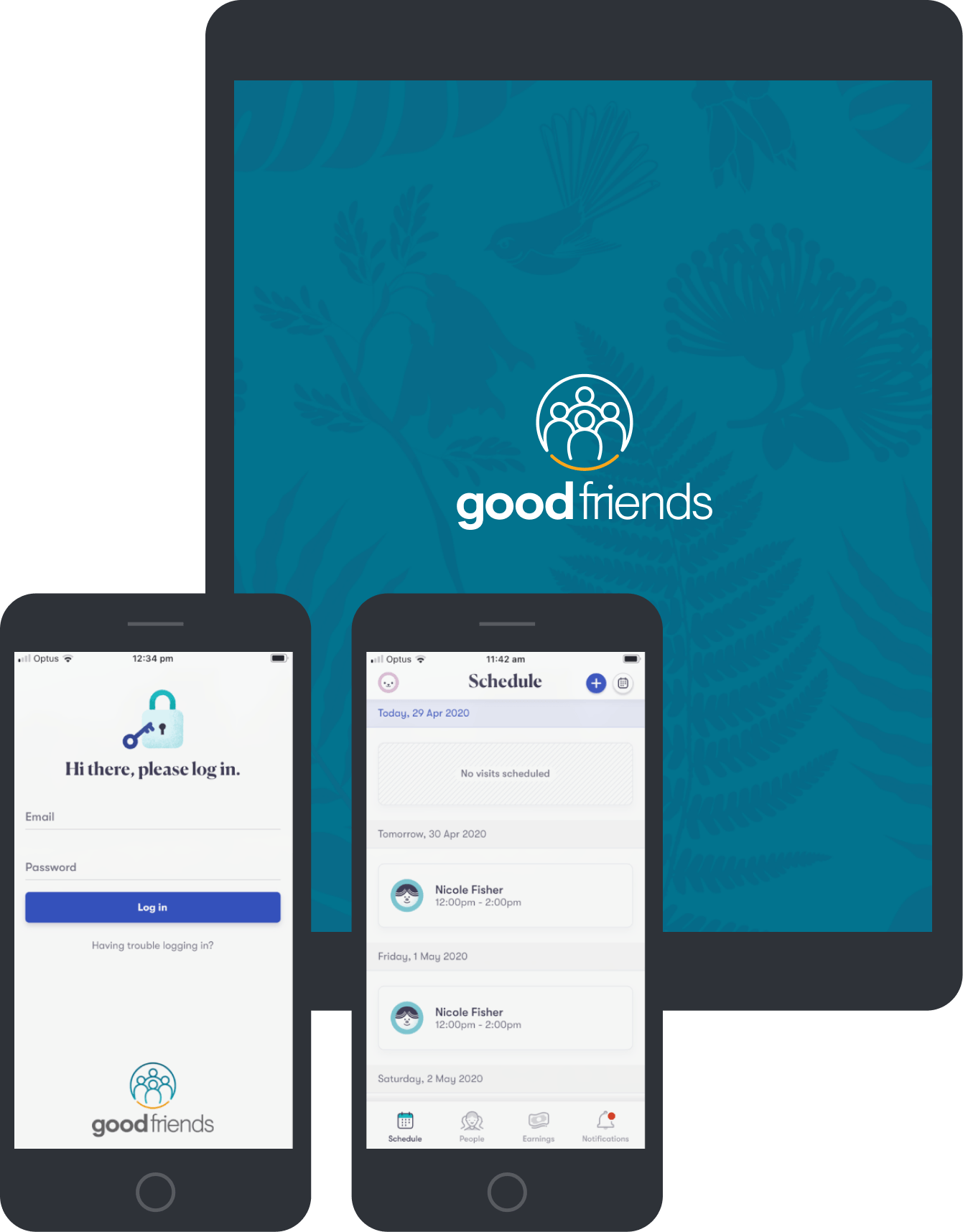 Join our Good Friends service trial in Christchurch
If you're lucky enough to live in Christchurch and want some help to maintain your independent lifestyle, Good Friends can help. We have the full range of helpers available to support you with everything from home maintenance and errands right through to nursing care.
You could be part of our service trial for 6-8 weeks at no charge*.
The Good Friends service trial is running in October and November 2020. Find out what's involved and if you could be part of it - call 0800 20 41 20 or fill out the form below. We'd love to hear from you.
*Restricted to certain suburbs and some conditions apply.
How Good Friends can help
Personalised home care and help that revolves around you, delivered in a way that feels friendly, focused and tailored to your needs.
That's the idea behind Good Friends, the one-of-a-kind helper network that supports independent living.
Here's what you get:
Another Arvida innovation
The Good Friends app makes it easy to manage your home helpers.
5k
Care workers
10k
Residents
25
Years of service
Your schedule of helpers is at your fingertips. It's easy to see who's coming and when, so you can plan your day.

You'll know who's knocking at the door. Your app will notify you when a helper has arrived.

You can easily manage your budget. You can view your expenditure and see exactly what you're being billed for.

You can see important health data. If you're receiving personal care or nursing services, your helper will gather health data that can be viewed on the app. This is handy for you, your family and your doctor.
Interested?
Leave your details and our Good Friends team will be in touch shortly.
Want to chat in person?
Call us on 0800 20 41 20