Smarter eating: shared gardening for home-grown goodness
The shared gardens at Queenstown Country Club produce more than vegetables. They're a source of entertainment and fulfilment for the residents who work in them. At harvest time, getting together for shared meals that feature home-grown crops is part of the experience.
The 15 raised vegetable beds at Queenstown Country Club are looking fabulous. The gardening team, which anybody living at Queenstown Country Club can join, is producing an epic range of ingredients. They're growing potatoes, runner beans, dwarf beans, lettuce, courgettes, carrots, spring onions, radishes, beetroot, silverbeet, peas, snow peas, leeks, parsnips, broccoli, cauliflower, Brussel Sprouts, rhubarb and two types of pumpkin. Herbs are also grown in the gardens and next year there will be strawberries.
Recently, the gardeners of Queenstown Country Club asked me to come up with a recipe to showcase some of the amazing ingredients they're producing. I decided to feature pumpkin, which is big on health benefits for people over 65. Here are some of the nutrients in pumpkin:
Beta carotene, which converts to vitamin A in your body. It reduces the risk of developing some types of cancer, supports heart health and helps to reduce the risk of age-related macular degeneration.
Potassium, useful for regulating blood pressure.
Polysaccharides, for helping to manage blood sugar levels.
Fibre, for digestive health.
Many of Arvida's Living Well Communities have shared gardens, including the innovative Park Lane community in Christchurch. We know that residents love growing their own food, especially when it helps them to grow new friendships as well.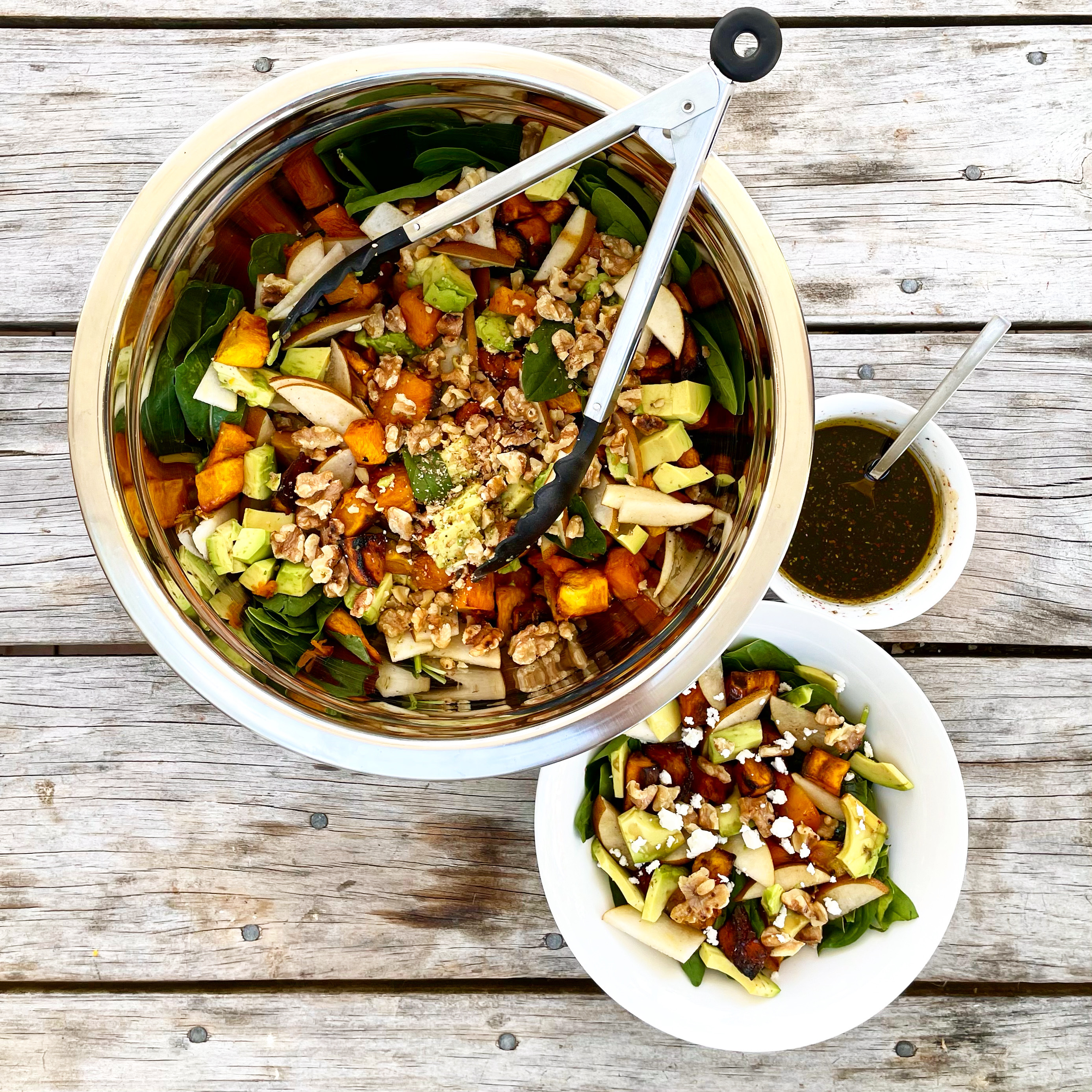 By Julia Scott, National Dietitian, Arvida
Roast Pumpkin, Pear and Feta Salad
Ingredients
Salad
650g pumpkin cut into 2-3cm chunks
2 tsp honey
2 tsp olive oil
¼ cup walnuts, chopped
3 handfuls spinach or silverbeet
1 avocado, sliced
1 ripe pear, sliced
60g feta cheese, crumbled
Raspberry balsamic dressing
¼ cup raspberries fresh or defrosted frozen berries
2 Tbsp balsamic vinegar
1 tsp honey
2 Tbsp olive oil
Pinch of salt and pepper
Instructions
Preheat the oven to 200C. Line a roasting tray with baking paper.
Toss pumpkin with honey and olive oil in the roasting tray. Season with salt and pepper. Roast for 30 minutes or until tender and caramelising around the edges.
Place all of the dressing ingredients into a jar, and shake vigorously until well combined.
Lightly toast walnuts in a dry fry pan (with no oil) for 1-2 minutes over medium heat, moving the pan around frequently to prevent burning. Set aside to cool.
To serve, arrange spinach and silverbeet, roast pumpkin, avocado, pear and nuts onto plates, scatter with feta cheese and spoon over raspberry dressing.
Serves 2