New Zealand's oldest person celebrates birthday at Olive Tree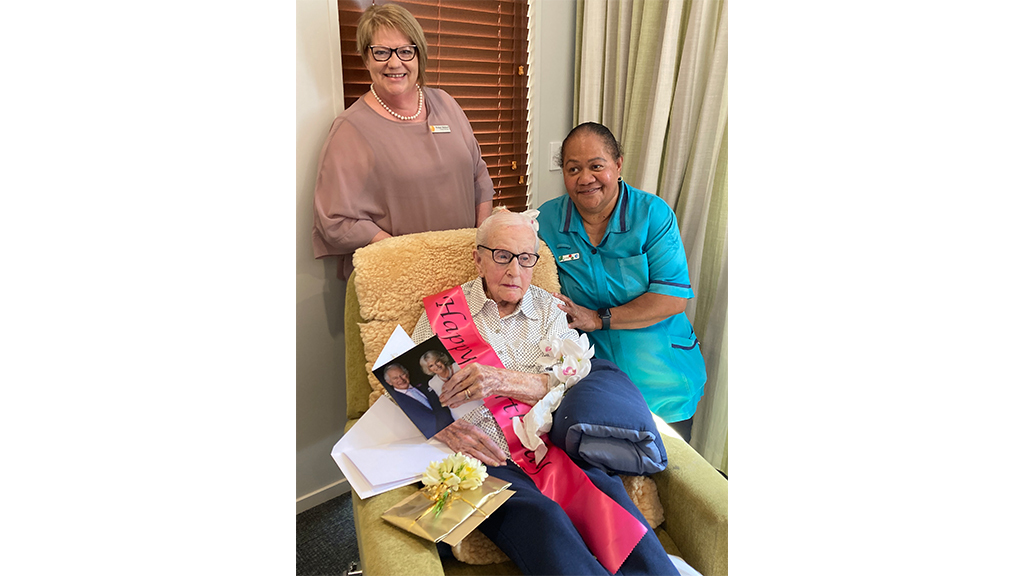 As New Zealand's oldest person, Aileen Kars celebrates her 110th birthday with family and friends this week. Aileen also celebrates 30 years as a resident of Arvida Olive Tree community in Highbury, Palmerston North.
Her Village Manager, Robyn Ballard says Aileen is quite the celebrity amongst the other residents and team in the community.
"Aileen moved into Olive Tree way back in 1993 and has lived in a villa, an apartment and now she lives in our care centre. She has a beautiful way about her and everyone loves to visit her."
As a devoted farmer's wife, Aileen would milk cows and ride horses with her late husband, balancing busy farm duties with raising her children in the Manawatu region.
Family is important to Aileen, having had a happy marriage that lasted 54 years. The supercentenarian has two children, three grandchildren, 12 great-grandchildren and seven great-great-grandchildren.
Wellness Partner, Lina Ford (pictured along with Robyn) has been looking after Aileen for more than five years and says she enjoys being part of the community.
"It's such a pleasure looking after her, she is such a sweet lady."
Aileen's family believe a strong faith has contributed to her amazing longevity and good health. Dancing, bowling, golf and horse riding were some of the interests and sports that kept Aileen busy over the years.
Robyn says while things are a little slower now for the well-known Manawatu-born resident, she still lights up around others.
"Aileen likes to spend her days quietly in her room with visits from her closest local friends."