Arvida up for three NZACA awards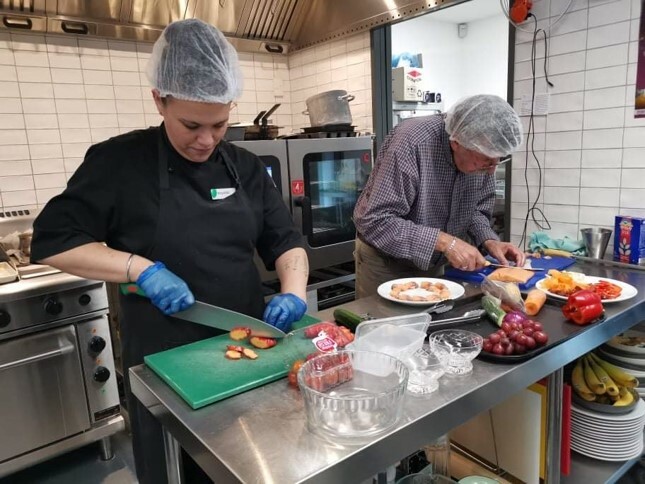 Executive Chef Krystal Tai and resident David Benson at work in Arvida Park Lane's commercial kitchen. Park Lane is a finalist for the NZACA Bidfood Excellence in Food Award.
Judging is underway for the 2020 NZACA/EBOS Healthcare Excellence in Care Awards, and we're thrilled to report that Arvida is a finalist for three awards: the ARJO Training and Staff Development Award; the VCare Legendary Service to the Aged Residential Care Sector Award; and the Bidfood Excellence in Food Award.
The New Zealand Aged Care Association (NZACA) awards recognise the pursuit of excellence by residential aged care facilities and their staff. Results for 2020 will be announced on 17 November at the NZACA National Conference in Wellington.
FINALIST: ARJO Training and Staff Development Award
Arvida's 2019 training initiative 'Learning Together – A Combined Leadership Training Programme' has a good chance of winning this award. The programme focuses on developing interpersonal communication, team building, leadership and goal setting skills for both staff and residents. A formal service evaluation of one of our Arvida Care Centres confirmed that the programme increased experiences of social inclusion, self-expression, positive identity, and security and support. Arvida's Wellness Manager, Maria Scott-Multani, held train-the-trainer workshops for all Arvida communities, so that they could run the training sessions within their households.
FINALIST: VCare Legendary Service to the Aged Residential Care Sector Award
This is an award for individuals and Arvida's Bee Milburn has made it to the finals. Bee is a diversional therapist working at Arvida's The Wood community in Nelson. She's loved for her ability to bring out the best in people, recognise good ideas and make them better, and tackle every aspect of her job with humour and empathy.
In support of Bee's entry, resident Carolyn Lock said, "Each month there is a theme to base our activities around. These include things like a pub afternoon, trishaw rides, Tai Chi, rowing down the Buller River, bingo with chocolate prizes, knitting club, writing our life histories, animal visits from K9, picnics in local parks and much more. Cooking also plays a big role, with Bee supporting us to make lemon honey, marmalade and biscuits.
"Bee supported me personally to start an evening group for residents with games of cards, darts, dominoes and Rummikub. She sets up the tables ready for us and supplies soft drinks and snacks. On another occasion I mentioned that I was sad that I didn't have a sewing machine any more to make gifts for my grandchildren, and low and behold within a few days a sewing room was set up with a machine all ready for us."
FINALIST : Bidfood Excellence in Food Award
Arvida's Park Lane community in Christchurch submitted an entry for this award to demonstrate a community-wide commitment to eating well. Every day fresh ingredients are transformed into a diverse range of options that meet the dietary and cultural needs of Park Lane's residents. Menus are displayed with colour photos to assist with meal choices and regular food forums capture residents' ideas for seasonal menu changes. Residents are also involved with caring for community vegetable gardens that provide the kitchen with fresh ingredients. Park Lane even has its own beehive and every resident receives a jar of honey when the honey is harvested.
Visit the New Zealand Aged Care Association website for more information about the awards.