Arvida's first care suites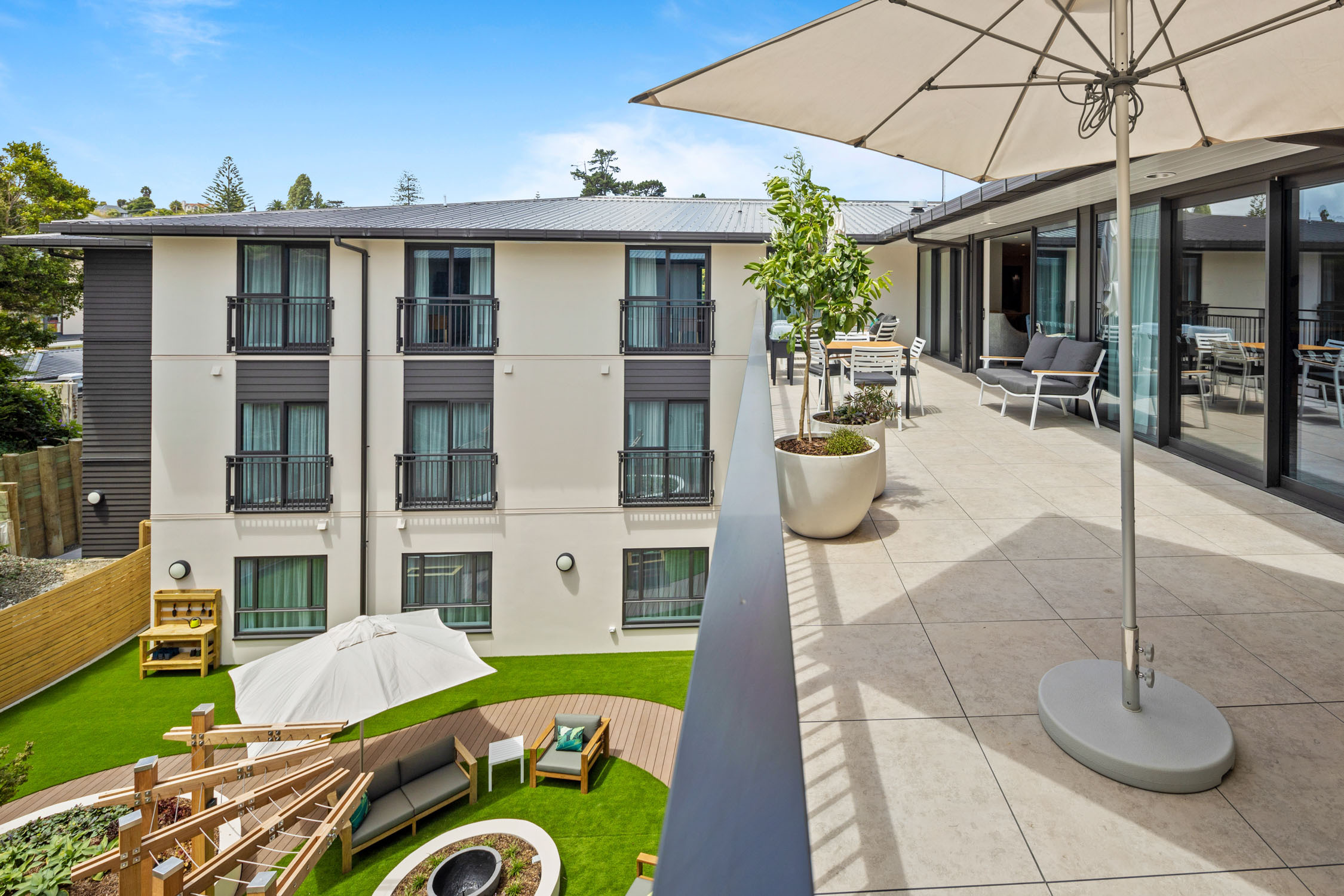 Aria Bay in Browns Bay, Auckland is the first Arvida community to offer care suites to older people who need daily assistance. These luxurious studio apartments are designed to support almost every level of care, so residents don't have to move when their needs change.
The care suites are housed within a new care centre at the western edge of Aria Bay's site. While the suites look like spacious studio apartments, they have hidden secrets that allow them to adapt to the needs of each resident. For example, the suites have advanced Cubro electric hospital beds, hidden hoists in the ceiling and wheelchair-accessible bathrooms.
Care suites for dementia have a number of special features that are helpful for those living with memory loss. Differences include alternate placement of the bathroom door, strategic use of colour for way-finding and a front door memory box to hold personal items that help residents recognise their suite.
Aside from a high-quality finish and beautiful interior decorating, Aria Bay's care suites support person-centred care. Maria Scott-Multani, who is part of the Wellness and Care team at Arvida, explains what this is:
"Person-centred care recognises that no one person is the same. By understanding who you are, your key roles in life, what essentially matters to you, we can support you a way that results in you living a meaningful and fulfilling life. At the heart of person-centred care lies the understanding that everyone deserves to be treated with dignity and respect in a way that ensures you remain in charge of your life. That means we work in partnership with you to find out what you need to feel well in your body, mind, and soul. For one person, that might mean baking in the shared kitchen. For someone else, it could mean getting down to the beach for a paddle in the sea. Person-centred care puts people at the heart of all decision making and challenges institutional practices that have traditionally informed care models."
To support person-centred care, each floor of care suites shares a lounge, dining, activity and outdoor areas. These beautifully-presented spaces encourage social interaction, enjoyable meal times and happy pastimes. On the dementia level, the lounge opens out to a beautiful walled garden with a choice of sunny and shady places to sit.
The care suites were opened by Arvida CEO Bill McDonald and MP for East Coast Bays, Erica Stanford in January and residents are enjoying their new home.