Care suites bring a new way of living
After 24 years of working in the aged care sector, Arvida Rhodes on Cashmere Village Manager, Michelle Hamilton says one of the most common myths is that you lose your freedom. With the newly opened care suites at Rhodes, the offering provides even more freedom for the over-65 community to live exactly how they want.
Developed by award-winning architects, the care suites, purchased through an Occupation Right Agreement (ORA), offer personalisation that's supported by hospital or rest home-level care. Michelle says the concept of a care suite provides an opportunity for the resident to feel right at home.
"Having care and support there when you need it is important, but so is a homely and private living space to call your own. The designs offer all the comforts of home with a kitchenette, ensuite bathroom and built-in storage. Having family come to visit is so easy when you have your own space for them."
It's the best of both worlds for a resident who might feel like socialising with the creation of innovative small household groups. These suite households also have spacious shared kitchens, living rooms and outdoor areas. Michelle explains when it comes to personal and clinical care services, it's always a personalised experience.
"My team and I tailor our care plans and support to each resident's needs and preferences. We work closely with the resident and their family to find out what they enjoy doing and what their routine is like. Our days are completely based around what our residents' wishes are – we really do move to their rhythm"
The care suite personal freedom extends to something as simple as breakfast time, something many of us take for granted.
"We have two residents who regularly like to sleep a little later each morning. Yesterday my clinical manager was there to assist them with a late breakfast and she enjoyed a coffee with them too. Many other homes just don't offer this kind of flexibility and I think it's what makes our care suites unique."
When it comes to activities, there's a range available where residents can do as much or as little as they like. From regular exercise sessions to card making, high tea to musical bingo, the wide variety of activity options give everyone an opportunity to 'have a go'. The care suites themselves are professionally and tastefully decorated with beautiful colours and furnishings, and many have an impressive view from the elevated Cashmere Hills location. Michelle says she's proud of the care provided by her professional and dedicated team that includes nurses, wellness partners, laundry and kitchen teams.
"We assist our residents when they want to be assisted. We wear badges instead of uniforms and families comment on the homely and welcoming atmosphere."
Strong bonds between residents and team are common, as are the friendships between residents.
There's also a number of other benefits to being part of Arvida Rhodes on Cashmere community, there's the shared vegetable gardens, a gym, a library to read your favourite book, a workshop and hair salon. There's also lovely walking tracks in the nearby Purau Reserve.
A comment Michelle hears very often from both families and residents is that they wished they'd made the decision to move into Arvida Rhodes on Cashmere sooner!
For more information about Rhodes on Cashmere care suites call Karen on 03 332 3240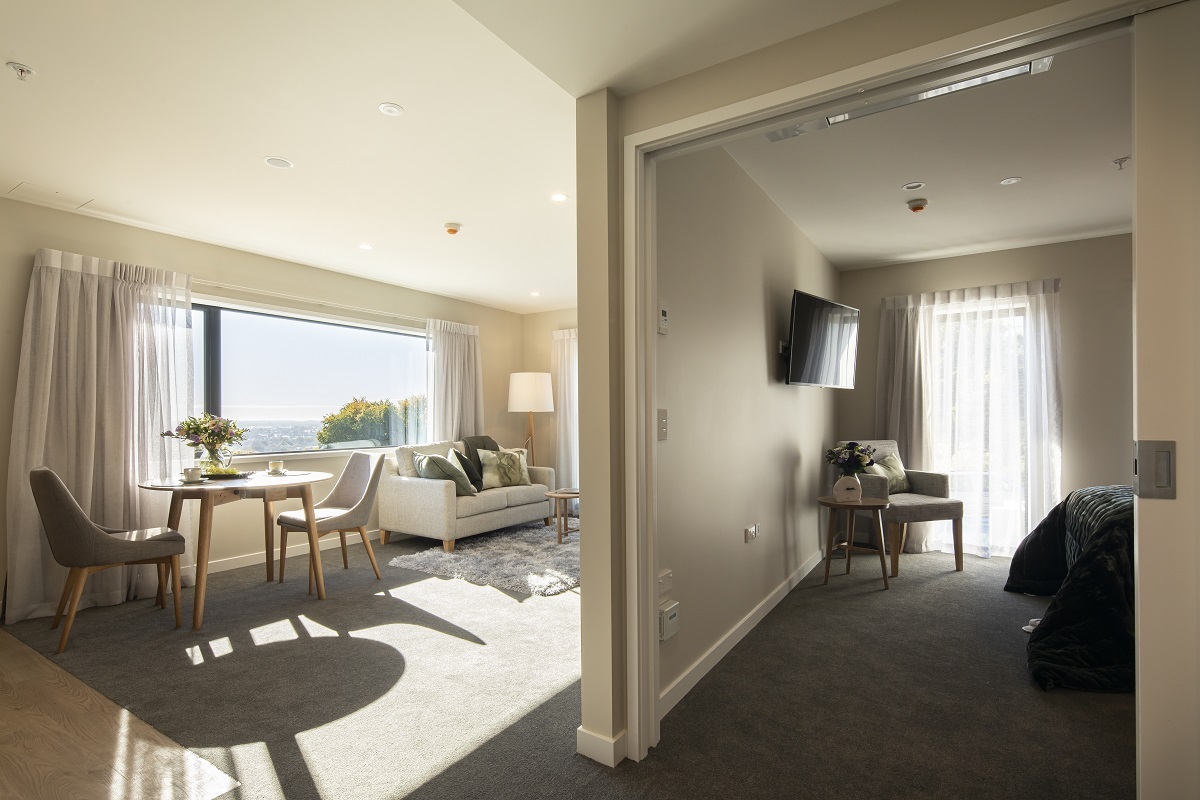 Example of a deluxe care suite at Arvida Rhodes on Cashmere