Keeping birdsong alive with pest control in Arvida's native forest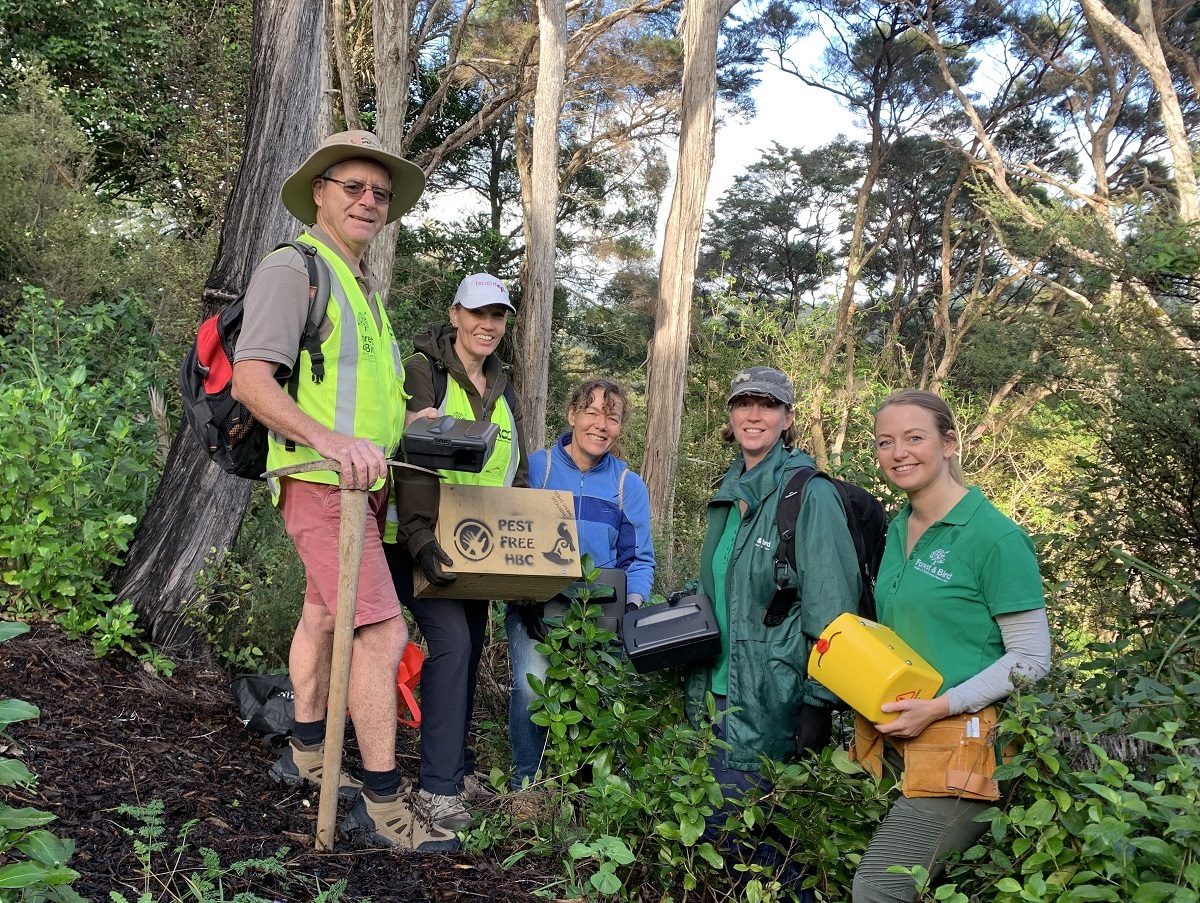 Hearing the 'morepork' hoots of ruru at night is a pleasure enjoyed by residents of Arvida's Peninsula Club in Whangaparāoa. And now the community is actively involved in protecting the habitat that local ruru and many other native bird species call home.
Arvida Peninsula Club is lucky to have four hectares of native forest extending from the back of the village down to the Weiti River. While the forest is too steep for walking trails, it's an important habitat for native birds, including ruru (morepork), tūī, kereru and pīwakawaka (fantail).
In June, Arvida's grounds and garden manager Renee Walsh joined with volunteers from Pest Free Hibiscus Coast and Forest & Bird to install pest traps in the forest. The traps target rats, stoats and possums, common predators that kill the eggs and chicks of native birds.
"The forest within Peninsula Club's boundaries is really special. There are mature nikau, kahikatea, tanekaha and kanuka, as well as some really big puriri with trunks a metre across. There's also a good section of kauri, which are undisturbed so less likely to ever get kauri dieback disease. It's a wonderful forest," says Renee.
In the long term, Renee plans to train a team of Peninsula Club residents to maintain the trap line.
"We've only caught a few rats so far, which is a good thing because it indicates there aren't a lot of predators living in the forest. Volunteers working for Pest Free Hibiscus Coast have been trapping extensively either side of our forest, so they've put a big dent in predator populations. Our plan is to keep up the good work, so that native bird species can continue to flourish."
Renee also says that herbicide choice is important, particularly where gardens are close to native forests. By using an organic vinegar-based herbicide, the gardening team controls weeds around Peninsula Club without killing insects. Insects are an important food source for many native birds living in the community's native forest.
We asked Renee about her organic herbicide and she provided us with this recipe. It's very easy to mix up and use. It works fast too – weeds start to look sick within 15 minutes and are brown the next day.
The active ingredient in vinegar is acetic acid, which is a desiccant. When it's sprayed on a plant, it draws moisture out of the leaves, killing the top growth. It's most effective on small or new weeds.
Organic weed killer
1 litre of white vinegar
¼ cup of salt
1 tablespoon dishwashing liquid

Mix together in a spray bottle and apply to dry weeds. Choose a day when rain is not likely.
Photo: Group who installed the line, Julian Fripp, Pip Stocking (volunteers), Renee Walsh (Arvida), Naomi Harrison and Jenny Hanwell of Forest and Bird.