Laughter, friendship and fun for dynamic duo – Liz and Jan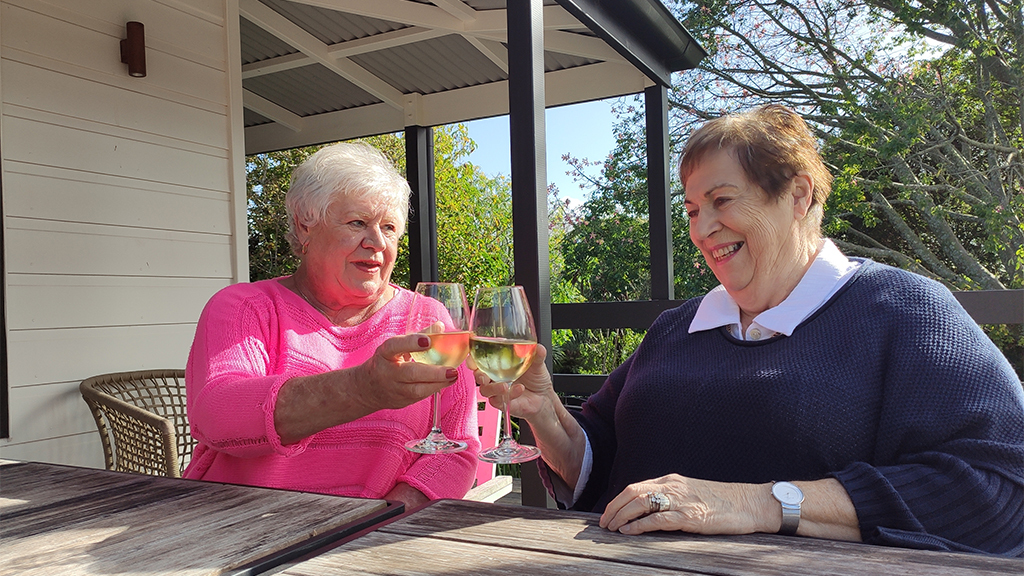 When Arvida Te Puna Waiora resident, Liz Philip, was in a full leg brace with a broken kneecap - the challenge was getting back from her neighbour, Jan Mac's villa after enjoying delicious meals and more than a few wines!
"I think my wheelchair nearly tipped in the garden one night. We've had some funny times together where we've had a good laugh," Liz says.
Jan explains the neighbours have been supporting each other, and their husbands, ever since they met when she moved in early last year.
"Liz suddenly arrived with fruit cake and an allen key for our furniture. It made everything so much better."
The duo would regularly sit, chat and get to know each other at happy hour and friendship quickly blossomed. They found they had many similarities - Jan grew up in Blenheim and had an aunt and uncle who worked for Liz's uncle in Seddon.
Both residents are very active on the social committee and help to come up with all sorts of activities and events for the community. Now whenever a new resident arrives at Te Puna Waiora, Jan makes a batch of scones as a welcome gift.
Jan says her friendship with Liz extends to their husbands, Tony and Pete, who both like to watch and commentate on rugby together from the comfort of the converted den at Liz's place.
"They're like the two old Muppet men and honestly you'd think there were two different rugby games going on with their commentary."
The duo has some simple advice for over-65s who have made the decision to move into a retirement community and may not know anyone.
"Join in with anything and everything – you do have to make an effort to become involved."
Jan's cat, Nikko, has now even found a second home at Liz's place too.
---
Engaging well with people you know inside-out and those you've just met is good for the soul.