Very valuable food: salmon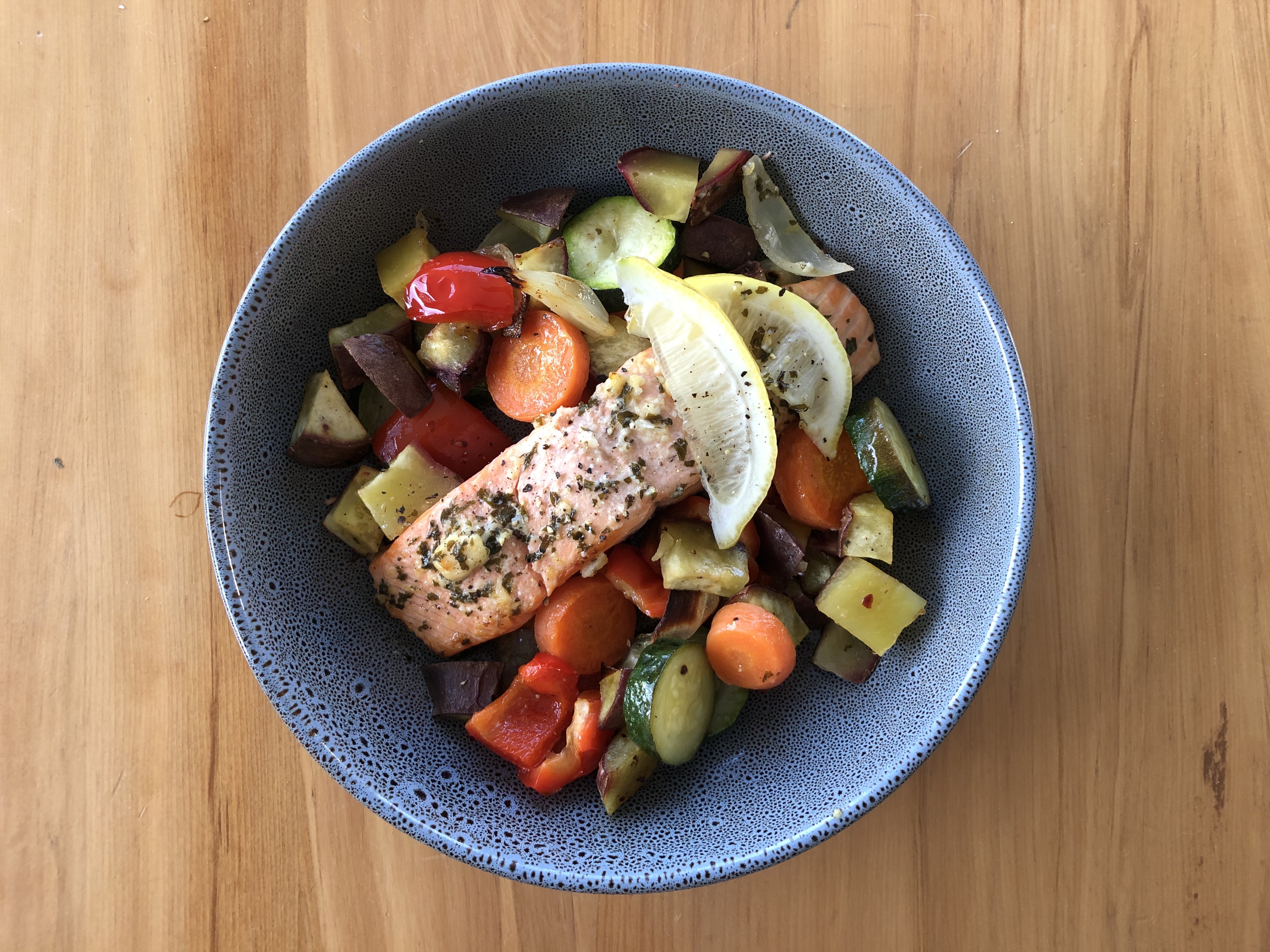 By Julia Scott, National Dietitian, Arvida Group
Once upon a time, salmon was something that came in tins. You could get pink or red; red was considered the more premium of the two and it was commonly saved for special occasions, like Christmas. Today, salmon is a fresh fish you can buy at every supermarket and fish shop in the country. It's ridiculously good for you and much of it is proudly farmed in New Zealand.
History of salmon as a food
Salmon has been a popular food for humans since Paleolithic times, more than two million years ago.1 Because they always return to their fresh water spawning grounds, salmon were easy to catch. When North America was being settled by Europeans, salmon was so abundant that servants sometimes had a clause written into their contracts restricting salmon meals to once a week, because they were so tired of it.2
How salmon is sourced today
Salmon are generally divided into two categories – Atlantic and Pacific. There are several species of Pacific salmon, but just one species of Atlantic salmon. In New Zealand, local salmon is usually chinook (also known as quinnat or king salmon). When you see Atlantic salmon in the supermarket, look closer and you'll notice that it's imported from the northern hemisphere.
New Zealand's sea-based salmon farms are mostly found in the Marlborough Sounds, Akaroa Harbour and Stewart Island. Fresh-water salmon farms are found in Canterbury, Otago and the Tasman region. New Zealand salmon are raised without need for vaccines or antibiotics, which are often used in northern hemisphere salmon farms.
Salmon nutrition
You can still buy tinned salmon, which does contain plenty of good nutrition, but fresh salmon is definitely top of the chart. New Zealand king salmon is a valuable source of:
Omega-3, for a healthy heart and immune system, and cancer prevention

Vitamin B6, important for the immune system
Vitamin B12, for a healthy nervous system
Magnesium, to help the body to process fat and protein
Selenium, for a healthy immune system, and helping to prevent cancer and heart disease
Phosphorus, for building healthy bones
Niacin, for blood sugar management, efficient digestion, maintaining healthy cholesterol levels, and reducing stress, depression and anxiety
Storage and handling
Treat salmon like any seafood. When you buy it fresh, keep it cold on the way home (take a chilly bag and ice packs) and store in the coldest part of your fridge. Use fresh salmon within two days of buying it. You can freeze salmon successfully, which allows you to buy when it's on special.
Preparation and cooking
Remove pin bones using fish tweezers, which can be purchased in kitchen shops or on TradeMe. The skin can be removed with a sharp knife or left on the fish. It's a valuable source of nutrients, so if you like salmon skin, by all means eat it. Salmon can be cooked rare, medium-rare or well-done, depending on your preferences.
Roasting/baking: Rub fillets with a little olive oil, sprinkle with salt and pepper, place on non-stick foil in an oven dish or on a rack, then cook for 15 to 20 minutes in a hot oven.
Pan-frying: Heat a drizzle of oil in a fry pan on medium-high heat. Cook salmon skin-side down for about 3 minutes, flip and cook for a further 2 minutes (or longer, if you like it well-done).
Barbecuing: Pre-heat grill to medium-high. Brush grill bars with oil, place salmon flesh side down over direct heat and cook for about 1 minute to produce grill marks. Flip the fillets, so that the skin side is down. Close barbecue lid and cook for five to eight minutes, depending on the doneness you want to achieve.
---
1 Food Studies.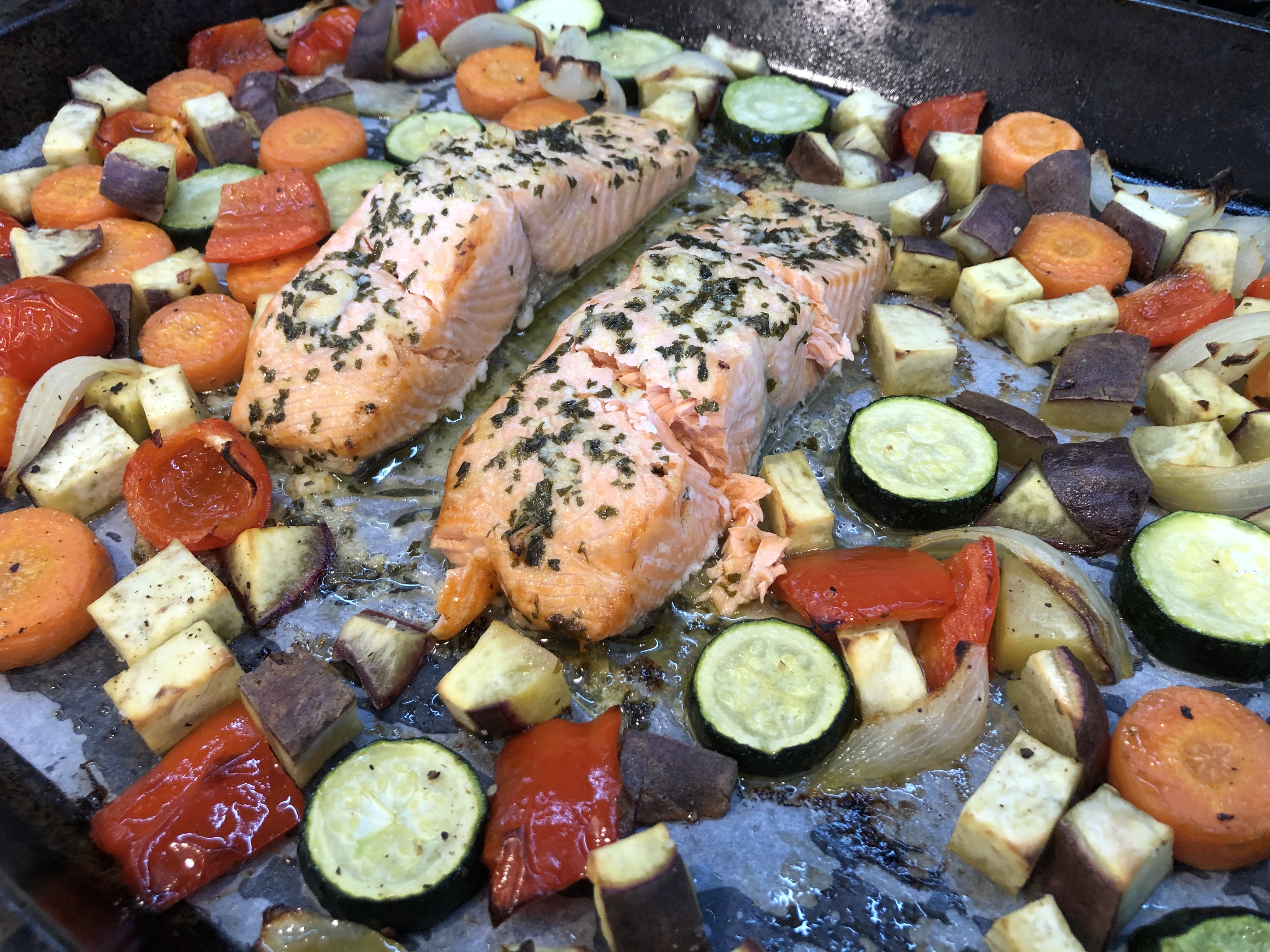 Arvida one-pan salmon bake
Here's a one-pan salmon bake recipe (created by Arvida's very own dietitian!) to try tonight.
Ingredients
1 courgette, sliced into 1cm rounds
1 carrot, sliced into ½cm rounds
½ onion, cut into wedges and layers separated
1 capsicum, cut long ways into 8 pieces and then in half
½ kumara, diced into small cubes
2 tbsp olive oil
1 tsp dried mixed herbs
Sprinkle of chilli flakes (optional)
2 salmon fillets
Salt and pepper
1 tbsp melted butter
1 tsp garlic, minced
1 tbsp fresh parsley, finely chopped (or 1 tsp dried)
1 tbsp lemon juice
Method
Preheat the oven to 200C and line an oven tray with baking paper.
Spread vegetables out into a single layer on the oven tray and drizzle with olive oil. Sprinkle with mixed herbs and some chilli flakes if desired. Leave a space in the middle of the tray for the salmon.
Place the salmon, skin side down, in between the vegetables. Season salmon and vegetables with salt and pepper.
In a small bowl, mix butter, garlic, parsley and lemon juice. Brush evenly over the salmon.
Roast for 20 minutes, until salmon is flaky and mostly opaque (when cooked it should flake easily with a fork).

Add one salmon fillet and half of the vegetables to each plate.