Arvida shines at RVA sustainability awards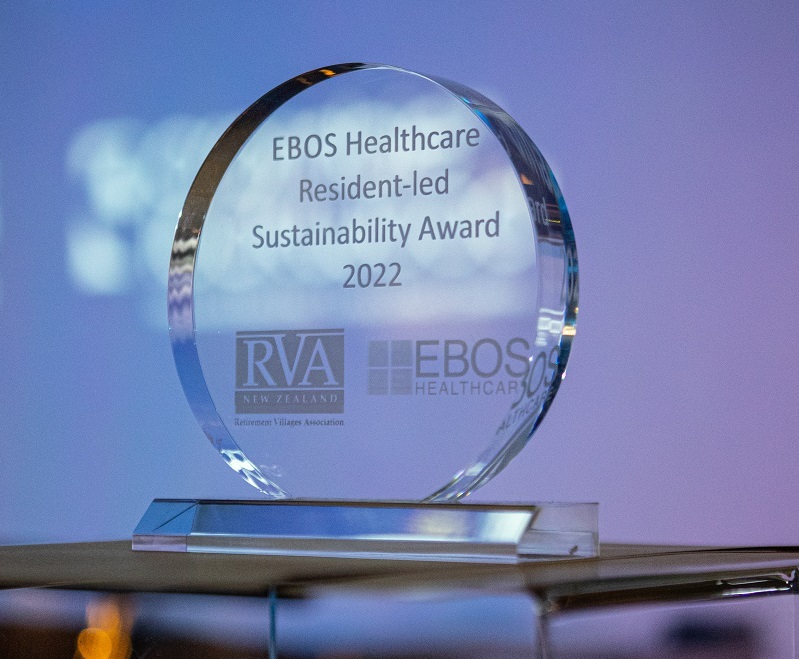 This year Arvida entered the Retirement Villages Association Sustainability Awards. Several of our communities have been making excellent progress with resident-led initiatives that improve their social and natural environment.
The RVA awards focus on improving sustainability across New Zealand's retirement village sector, particularly for building, design, landscaping, grounds and activities. We entered four categories in the awards and two of our entries were successful.
WINNER! Arvida Waimea Plains - EBOS Resident-led Sustainability Award 2022
Waimea Plains' resident-led sustainability programme really impressed the judges. Here are some of the outcomes achieved so far:
The community's vegetable garden is at full production. Residents are growing a lot of their own produce.
Residents now write, edit, and publish the monthly Waimea Plains Newsletter.
The outdoor bowls group has expanded from once per week to 3 x per week, beginners are supported and a league table is emerging.
Wednesday morning tea now has a roster of residents who cook and bake morning tea for the village. Produce from the village garden is often used.
Spent grain from the community's beer brewing hobby group is used to make bread. Residents collect the used grain to make bread in their own homes. Any leftovers go towards feeding some local pigs and chooks.
A safe driving course has been held in the clubhouse, arranged by the Thinking Well group.
Social gatherings have a purpose, for example the Matariki celebration welcomed an incoming resident as a guest speaker and the local school contributed with kapa haka and waiata.
A resident buddy system has been introduced to support new residents and those who live alone. This initiative has meant new residents settle quickly, feel supported, and engaged with the community from the outset.
FINALIST! Arvida St Albans - Spaceworks Resident-led Gardening and Landscaping Award 2022
St Albans' resident-led gardening project has been a huge success. The community has had construction and covid to contend with since 2015, so re-establishing gardens was a priority. Residents from all levels of care have been involved and here's what they have achieved:
Gathering ideas from Pinterest for refreshing existing gardens and creating new garden areas.
Vegetable pods established to continuously produce vegetables and nursery plants.
Residents sell their plants on their craft table and at markets to raise money for charity. More than $3000 has been donated to various causes this year so far.
Painted rocks are dotted around gardens for residents to find. A magical fairy garden has been made to entertain visiting children (and residents!).

Residents have taken leadership roles with planning and implementing new garden

s.