Rest home and hospital-level care in new Cashmere care suite option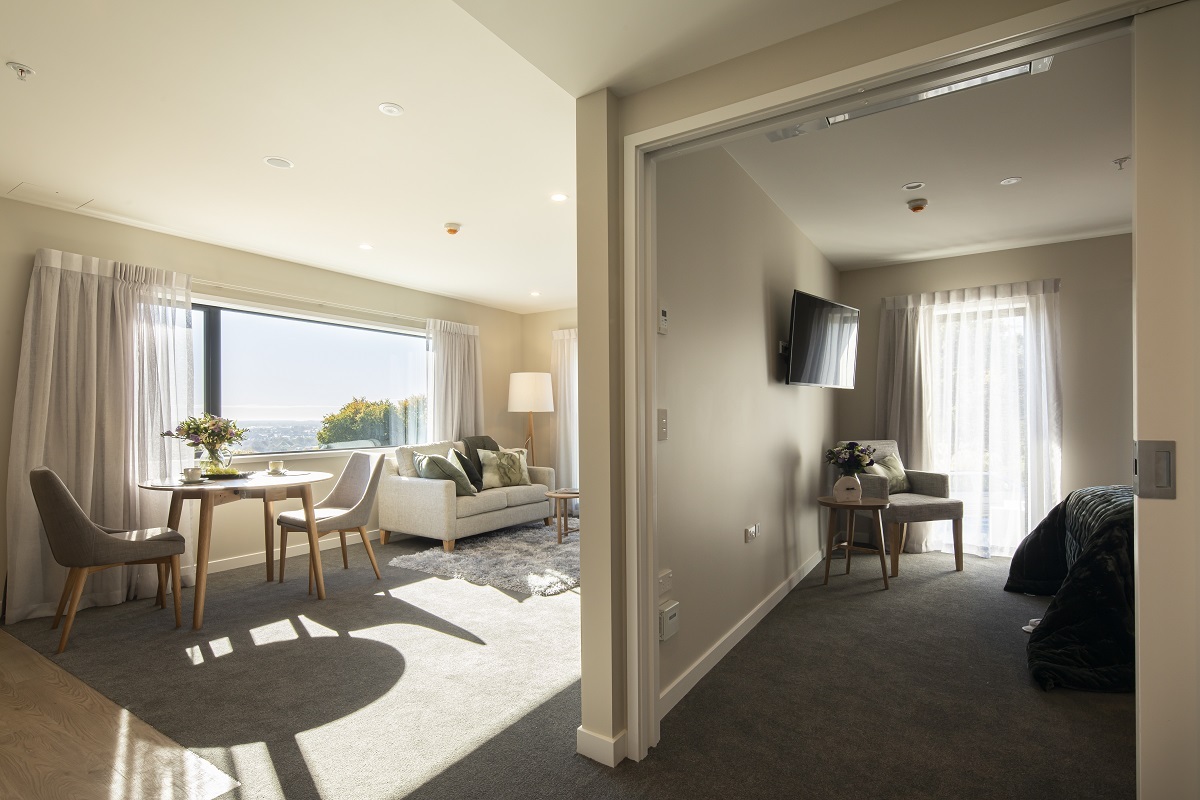 Arvida's Rhodes on Cashmere community has always stood out in Christchurch. It has some of the best views in the city and some of the most attractive apartments for over-65s in the region. Now Rhodes has another major advantage – care suites for rest home and hospital-level care.
The care suite concept is new and only exists in a few retirement communities in New Zealand. It completes Rhodes, which already has 42 apartments for independent living and the Rhodes Café.
At Rhodes on Cashmere, care suites are part of a brand new care centre built on the site of the Rhodes Memorial Convalescent Home, a historic building that had to be demolished following the Christchurch earthquakes. The development of the care centre continues the tradition of care on the Rhodes site.
What is a care suite?
A care suite is a spacious studio or one-bedroom apartment designed specifically for older people who need a higher level of assistance, such as rest home care. Every suite includes an ensuite bathroom, bed area or bedroom and living area. Many also have a kitchenette.
Michelle Hamilton, village manager at Rhodes on Cashmere, says the arrival of care suites is exciting for residents as seven years of development work comes to an end. It's reassuring for them to know that care is now available.
"Our care suites are all located within a specialised care centre. For us it's the beginning of a new era, because recently we've only offered independent living in apartments."
While care suite residents have every meal provided, either in the dining room or in their suite, many also have the flexibility of making their own snacks in their kitchenette. This is a feature that families will enjoy when they visit.
The new care suites at Rhodes are organised into groups of 14, so that Arvida's acclaimed 'Attitude of Living Well' approach to care can operate in small groups. Michelle explains the concept.
"Household group living supports our Attitude of Living Well approach by building nurturing relationships between residents, their families and wellness partners. Each household is a cosy micro-community that feels more like a real home than a traditional rest home. The wellness partners remain consistent, rather than being rotated around a bigger group. They really get to know residents – and vice versa."
The care suites at Rhodes on Cashmere offer 24/7 rest home and hospital-level care. Many of the suites have a magnificent view over Christchurch. Within the care centre there are several lounges and dining rooms. There's also a kitchen where wellness partners and residents can enjoy cooking and baking together. Hobbies and crafts take place in household lounges. It all adds up to a comfortable, safe and happy environment where every resident gets the support and stimulation they need to live their best life.
If you're interested in finding our more about Rhodes on Cashmere's new care suites, call Karen on 021 830 331.
We also have care suites at Aria Bay, in Browns Bay and Copper Crest, Tauranga with more under development in other Arvida communities.